"For God and country."
Those are the words the Ground Commander reportedly radioed back, "For God and country. Geronimo. Geronimo. Geronimo."
Osama bin Laden is dead, and in hours since the news broke, I've been trying to process, well, everything.
There is relief that this horrifically long chapter is over. There is concern about what reprisals may occur. There is embarrassment over the cheerleaders performing stunts in front of the White House, those images broadcast worldwide.
There is an incredible longing to be back in New York, to stand at Ground Zero, to stand alongside the people who lived the horror with me. To circle back. And to walk away.
That's not to say I will forget – I will
never
forget – but I have no desire to do shoulder stands and pump my fist in the air.
I feel more like Hillary looks.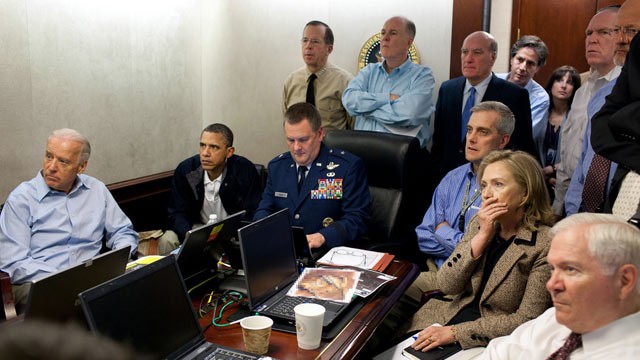 White House photo by Pete Souza.
This whole thing has been a terror.
Nearly 3000 lives lost
because of someone else's twisted version of his God and our country.
Another 6000 lost
defending the United States in Iraq and Afghanistan.
For God and country.
Indeed.
NBC News' Savannah Guthrie exclusively reported the Ground Commander's statement.