The corned beef is stewing, the butter is softening for the gingerbread, and the loaves of soda bread are cooling on the counter.
It's a big day for an Irish lass like me.
I approach St. Patrick's Day dinner much like Thanksgiving: tonight, we will feast. On food
and
memories.
Like the year Mrs. Otwell pinned a dollar bill to Steven's red sweater in hopes that he wouldn't get pinched at school. He
definitely
got pinched.
This is not green enough to avoid at St. Patty's pinch...
via Edro
Or the year Clay and I stumbled on – and later stumbled out of – Fatty's Cafe in Astoria, Queens. St. Fatrick teamed up with St. Patrick to make a
very
potent potable to go along with our prix fixe meal.
Or – most especially – the year my parents met Clay for the first time.
As we walked from Mom and Dad's hotel toward Fifth Avenue, both Clay and Dad were on high alert. It's as though they were boxing: a lot of footwork, feinting and the occasional sharp jab.
For example:
DAD: So, Clay. (Beat) You double majored in Acting and Dramatic Writing at NYU. (Beat) What do you plan to do with that?
CLAY: (Without hesitation) Probably a lot of drugs.
And on and on it continued.
Dad was trying to be this blustery Big, Scary Father, and Clay wasn't having any of it. I thank the Lord my mom just laughed.
We hit Fifth just in time for the bagpipes to drown out whatever antagonism was on the tip of Dad's tongue. With the swell of the parade bands, Big, Scary Father suddenly turned into a big kid.
Dad was swept up in the tide of Irish pride.
That was just six months after September 11. New York pride was at a zenith.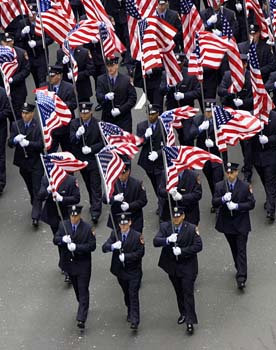 New York St. Patrick's Day Parade. March 16, 2002.
via nyc.gov
So when we stood, after the parade, shoulder-to-shoulder, tighter than sardines, drinking McSorley's with what seemed to be every public servant in the city, Dad's Irish eyes were smiling.
The oldest (and dirtiest) Irish bar in New York.
via laughingsquid's flickr
And tonight I'll raise my Guinness to Dad, happy with my memories, and happy to make new ones for my kids.
Happy St. Patrick's Day, y'all.