Grandma and Grandpa Adams recently brought home the new high-def
Bambi.
A great movie to be sure, but one that will raise even more questions from my death-obsessed four-year old.
Buy it here and relive the sadness again and again.
Okay, so Olivia's morbidity may be (read: probably is) partly (i.e. all) my doing. She's a very inquisitive little girl, and I try to be honest when she asks questions.
Perhaps I'm a little
too
honest.
But c'mon. Some questions you just can't dodge, like, "Why is Grandpa Martineau dead?"
Of course, there are also those questions you can
totally
avoid. For instance: "Why is Bambi's mommy dead?" Or, "Why did the hunter even want to shoot Bambi's mommy?" Or especially, "Is Bambi's mommy in heaven with Grandpa Martineau?"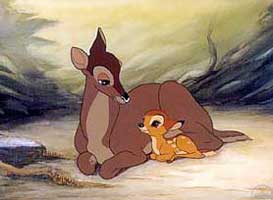 Enjoy it while you can, Bambi.
That's why I'm taking my time with this particular movie selection. Let's face it: tears will be spilled and nightmares will, most likely, be had.
Olivia and Fletcher
love deer
. We often see a doe with a couple of her little ones poking around in the backyard, and every now and then we see a family of seven eating the azaleas and foraging for acorns while we have our dinner at the kitchen table.
We see deer like this in our backyard. This, however, is not our backyard.
Photo by Gene Oleynik
My kids watch those deer they way they used to watch the geese in Prospect Park: wide-eyed and stock-still. Thank God we left Brooklyn before those
geese were mass-murdered
; that sure would've been a sucky conversation to have.
OLIVIA: "Mommy, where are all the geese?"
ME: "Hmmm. Well… Honey, the government gassed them."
OLIVIA: "Whhyyy?" (As only a preschooler can say it.)
ME: "Well, according to the
2010 Goose Removal Report
, Metropolitan New York City had an estimated 15,000 – 20,000 resident Canada Geese, which is about five times more than most people find socially acceptable."
OLIVIA: "Why aren't the geese socially acceptable?"
ME: "Uh, shoot. Huh. Maybe because they're Canadian?"
Seriously, I don't even know how "socially acceptable" applies to geese. And if
I
don't know, how the heck am I supposed to explain that to a kid?
What I
do
know is that ever since Sully landed the "Miracle on the Hudson" those geese have had targets on their backs.
Photo by McDermid/Reuters
Poor geese
. They were just doing what geese do: flying, pooping and taking bread from happy kids.
Now I hear the survivor geese (already suffering from what is sure to be horrible guilt about their fallen brethren) won't even be able to get the bread: New York is cracking down on their "no feeding" policies.
Where is the joy in this world?
Maybe outside Birmingham's Purple Onion, where this guy was begging for my falafel crumbs.
Who needs bread when you can get fried, spiced chickpeas?