We are at terror alert level red here. Imminent threat.
Since the sirens first rang on Thursday night, we have been watching and waiting.
But there is no Jack Bauer to save the day – there's not even Ray Kelly and his crack NYPD elite teams.
There is absolutely no one who can violently torture this perp into spilling vital details and, thereby, avert utter disaster.
The storm is coming. And there is
nothing
that can be done to stop it.
Now, I'm not talking hyperbolically. I'm talking about an
actual
storm due to hit Birmingham tomorrow afternoon.
There's no subway bomb plot or threat to blow up local bridges and tunnels. No, I gladly left those fears behind when our plane roared off the runway at LaGuardia.
What I
am
talking about is a monster storm that will supposedly spawn tornados like Nadya Suleman spawns babies.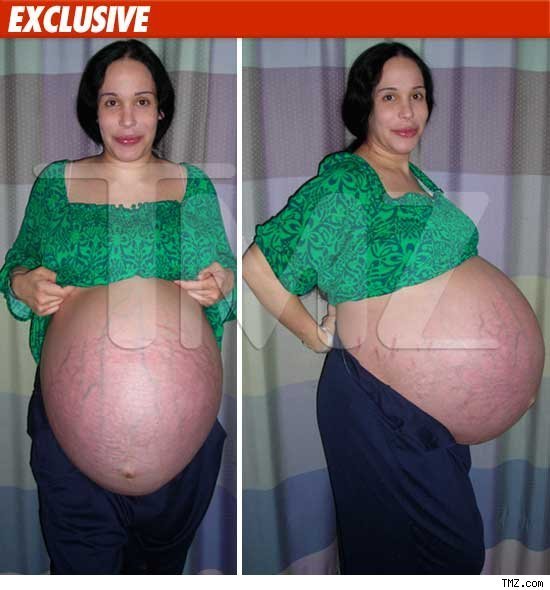 Imagine the meteorological version of this. Terrifying, right?
And this is actually far scarier to me than a suitcase nuke, because tornados strike fairly frequently here in Alabama.
In New York, the raised terror alert was so constant that I became inured to the threat.
I got so desensitized to "terror" that I stopped worrying about dying and started getting pissed when my train was delayed because some jerk left his backpack in the station ahead of me.
But not here. Oh, no. Here
sirens
go off whenever there's a tornado warning in any part of the county.
That means that when the alarm sounds, like it did at 11:30 last Thursday night, I rush to the television, turn on the local ABC affiliate (nobody does it better than
James Spann
!) and see what specific kind of terror is approaching from the west.
I worry how to best protect the kids and in what room should we curl ourselves. There are huge windows everywhere, and gigantic trees surround the house.
And, of course, this is when "
Worst Kate Scenario
" kicks in. So, to be completely honest, Olivia may have to wear her bicycle helmet all day tomorrow.
Don't want anything to fall on this brilliant, beautiful noggin.
If only I had possession of my Grandpa Martineau's WWI helmet. Then Fletch could really ride out the storm in style.
PFC Adams.
UPDATE:
While we did hear tornado sirens this afternoon, that portion of the storm was, thankfully, far from us.
However, today's
Birmingham News
reported that police closed the local airport for several hours yesterday as they investigated a
suspicious package
.
So, in summary, I have tornado alerts and terror alerts. The best of both worlds.