Christmas '04. Yes, that's a Harry Potter robe.
My father was a man who loved an OCCASION.
Okay, he loved to drink, but he also really liked the idea of "celebration." And he did not have to have a personal connection to the celebration in order to enjoy it. My dad was, let's just say,
all in
.
So, in my house, we celebrated Fat Tuesday and St. Patrick's Day. We drank margaritas on Cinco de Mayo and toasted our French ancestors on Bastille Day.
I think the only holiday we left out was Guy Fawkes Night, and that's a shame. I have yet to burn anyone in effigy.
Dad passed away five years ago, but whenever something sparks my fancy and inspires an impromptu event I know it's his doing. Like yesterday.
I was reading the local paper when, BAM! There it was. The 30th anniversary of Colonel Sanders' death. Yes, he of the white suit, string bowtie and bucket of chicken.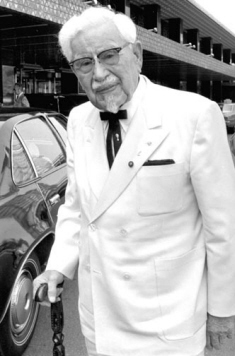 30 years is a long time. 30 years is something, yes, to be
celebrated
.
Also I had been craving fried chicken. It was like fate. I was fated to eat fried chicken.
Yet I had no desire to hit KFC. (I'm sure the Colonel wouldn't mind. His family has enough money.) I wanted to find the best fried chicken in Birmingham.
For months I've been asking people for recommendations, and I kept hearing the same place over and over. But I remained skeptical.
So, for a last-minute survey, I hit
Twitter
. Again the most popular answer was not some storied hole-in-the-wall restaurant or nouveau southern eatery. It was a local grocery store.
Publix
.
Well, I needed to get toilet paper anyway.
Now let me tell you something: I have never torn into a piece of meat like I tore into that chicken breast. I didn't even feel guilty when I went back for a second piece.
Olivia, the slowest eater on the planet, devoured her drumstick. And Fletcher, whom we have often suspected of vegetarianism, ended his dinner with greasy cheeks and a full belly.
To be fair, there were some folks who cast their votes for a place with a likable and straightforward name:
Seafood & Chicken Box
. As a former journalist, I will, obviously, go there so I can objectively report both sides of the story. Also they serve fried apple pie. (Umm, yes, please.)
In the meantime, I will tip my white straw hat to the Colonel but keep right on driving till I hit Publix.